Remove & Install Engine Lifting Brackets
Start By:
a. remove turbocharger*
---
*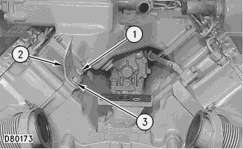 The air inlet manifold has been removed for photographic purposes only.
1. Remove one cap screw (1).
2. Remove one bolt and washer (3).
3. Remove rear engine lifting bracket (2).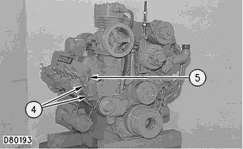 4. Remove two bolts and washers (4).
5. Remove front engine lifting bracket (5).
NOTE: For installation of the engine lifting brackets, reverse the removal steps.
End By:
a. install turbocharger