Remove & Install Oil Pan
Fluid Spillage Containment
Care must be taken to ensure that fluids are contained during performance of inspection, maintenance, testing, adjusting and repair of the machine. Be prepared to collect the fluid with suitable containers before opening any compartment or disassembling any component containing fluids. Refer to "Tools And Shop Products Guide", NENG2500 for tools and supplies suitable to collect and contain fluids in Caterpillar machines. Dispose of fluids according to local regulations and mandates.
Hot oil and components can cause personal injury. Do not allow hot oil or components to contact the skin. Be sure that the engine components are cool enough to touch with your bare hand prior to performing any service work.

1. Drain the oil from the oil pan.
NOTE: Some engines may be equipped with a sound suppression panel.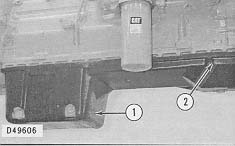 2. Remove the washers and eight bolts (1), and remove sound suppression panel (2).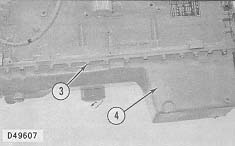 3. Remove bolts (3) that hold the oil pan to the engine.
4. Remove oil pan (4).
5. If the engine is equipped with a plate between the oil pan and cylinder block, remove the bolts and plate from the cylinder block. The weight of the plate is approximately 31 kg (68 lb).
NOTE: The following steps are for installation of the oil pan.
---
NOTICE
Put 5H-2471 Adhesive to fasten a new gasket to the oil pan.

---
6. Put the gasket and plate (if equipped) in position on the cylinder block, and install the bolts that hold them in place.
7. Put oil pan (4) in position on the engine, and install the bolts that hold it.
8. Put sound suppression panel (2) in position, and install the bolts that hold it.
9. Fill the engine to the correct level with oil. See the Operation & Maintenance Manual.