Lifter Installation
1. Turn camshaft so cam lobe is opposite lifter bore.
2. Install guide spring on lifter.
3. Put lifter assembly in engine oil and install into lifter bore so that the tab on the guide spring is located within area (A).
4. Push lifter into bore until contact is made with camshaft.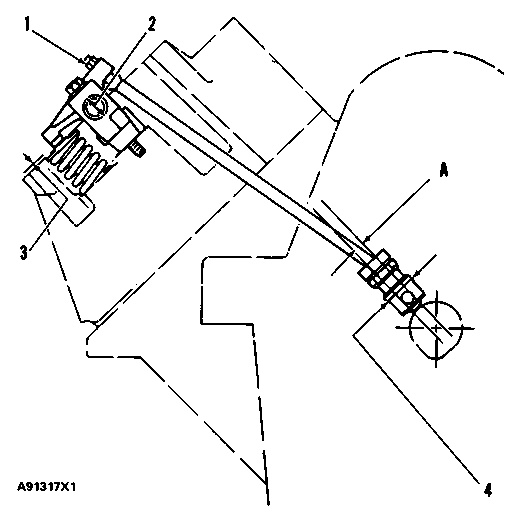 (1) Torque for locknut for valve adjustment screw … 24 ± 5 lb.ft.(30 ± 7 N·m)
(2) Diameter of the shaft for the rocker arms … .8580 to .8588 in.(21.793 to 21.814 mm)
Minimum permissible diameter (worn) … .8570 in.(21.768 mm)
Bore in bearings for the rocker arms (new) … .8603 ± .0008 in.(21.852 ± 0.020 mm)
Maximum permissible bore (worn) … .8630 in.(21.920 mm)
Maximum permissible clearance between bore in bearing and shaft (worn) … .005 in.(0.13 mm)
(3) Clearance for valves (intake valve) … .015 in.(0.38 mm)
Clearance for valves (exhaust valve) … .025 in.(0.64 mm)
(4) Diameter of cam follower … 1.1600 ± .0006 in.(29.464 ± 0.015 mm)
Bore in block for cam follower … 1.1624 ± .0010 in.(29.525 ± 0.025 mm)