Remove & Install Valve Lifters
Start By:
a. remove cylinder head assemblies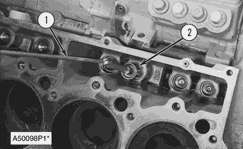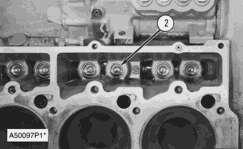 1. Remove valve lifters (2) with magnet (1).
2. Put an identification mark on each lifter as to its location in the cylinder block for installation purposes.
3. Put clean engine oil on the valve lifters and camshaft lobes.
4. Install valve lifters (2) in their original position in the cylinder block.
End By:
a. install cylinder head assemblies