Remove Oil Pan (Rear Sump)
1. Put the engine on a suitable engine stand.
2. Drain the oil from the engine.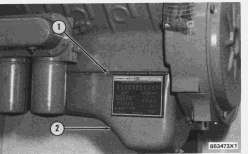 3. Remove bolts (1) and then remove oil pan (2) and gasket. Make an inspection of the gasket.
Install Oil Pan (Rear Sump)
1. Install a new gasket if necessary.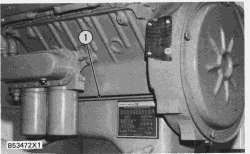 2. Put gasket and oil pan (1) in position on the engine block and install the bolts that hold it. Tighten the bolts to a torque of 17 ± 3 lb. ft. (23 ± 4 N·m).
3. Fill the engine with oil to the correct level. See MAINTENANCE GUIDE.