Remove Oil Pan
1. Drain the oil from the engine.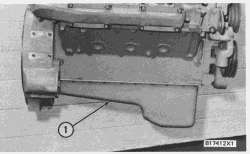 2. Remove twenty-eight bolts, oil pan (1) and the gasket.
Install Oil Pan
1. Inspect the gasket for the oil pan. Install a new gasket if needed.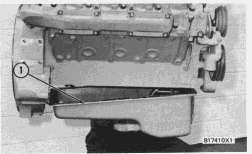 2. Put oil pan (1) in position and install the bolts. Tighten the bolts to a torque of 17 ± 3 lb.ft. (23 ± 4 N·m).
3. Fill the engine with oil to the correct level.